Shamir Brown
Residents in and around the parish of Trelawny came together on Monday to increase their lobby against the proposed mining of sections of the Cockpit Country.The participants in the action are adamant that they are totally against the operations set for September and are calling on the government to rescind the go-ahead given to Noranda to mine the area deemed as Special Mining Lease173. They gathered in the southern Trelawny town of Albert Town, where persons sought to bring awareness to the challenges that they foresee will become associated with the planned mining exercise.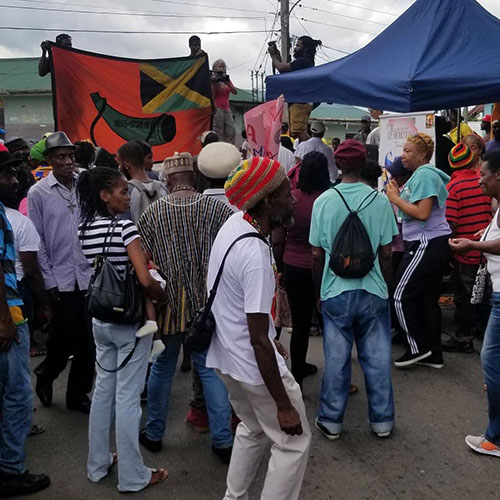 Since the plans were announced in May in Sawyers and Ulster Spring, Hugh Dixon of the Southern Trelawny Environment Agency, related that the residents have been staunchly opposed to it. The residents are adamant that the current borders that are being suggested are incorrect and are calling on the authorities to review what they are doing because the Cockpit Country incorporates the lands that Noranda now wants to mine for bauxite deposits.
On Monday, a number of persons came on buses, while others came in cars and other forms of transportation to stand against the pending actions. There were representatives from surrounding communities and groups. The Maroon community, the Rastafari community and other non-governmental organizations came with one message: that they were totally against the mining action and were calling on the government to stop it. Some came armed with placards, while others came armed with words and messages that they shared from a stage that they set up in the town.
They believe the proposed action will have major effects on not only the landscape, but on the livelihoods and the lives of people. A big worry for a number of persons is the potential impact that the mining will have on the water production coming out of the area. According to information gleaned from reputable sources, the Cockpit Country provides over 40% of the drinkable water and is a critical water resource for Western Jamaica.
President of the Lay Magistrates Association for the parish of Trelawny and business operator in Albert Town, Kenneth Grant, disclosed that he has visited areas that bauxite mining has taken place and, based on what he has seen, there is trouble ahead. "When I go to St. Elizabeth and St. Ann and see what bauxite mining has done and it seems like the place is carved out, I'm totally against the bauxite mining," he remarked.
It was further disclosed that the residents are adamant that the protests will continue until they can get a proper resolution to the situation. According to Mr. Dixon, the residents will not agree to the action and are calling on the government to examine the alternatives for that area. Mr. Dixon explained that the unique flora and fauna found in the Cockpit Country provide an opportunity to boost the nation's tourism product and therefore, that should be examined.