Alan Lewin – Contributor
One barber in St. James that must be credited for dedicating his life to his craft, cutting, dressing, grooming, styling and shaving the hair of men, boys and sometimes females in Montego Bay is none other than Neville Gilchrist, affectionately known as 'Dada.'
A busy fellow, he may not be available to trim and shave, and put all those fancy hairstyles on all men and women who want a good trim, but one thing's for sure, if you asked a barber in Montego Bay where he learnt his trade, there is a strong possibility he will say from 'Dada'. The 74-year-old barber is responsible for teaching well over 300 barbers the trade in a career that spans over 57 years.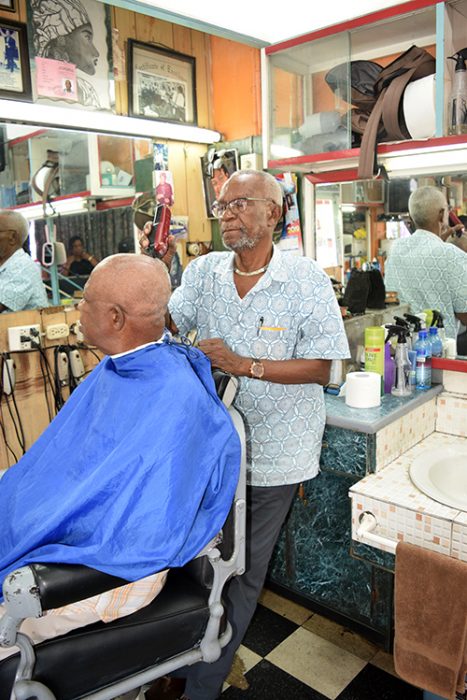 Dada has the distinction of being the oldest barber in St. James. He was born in St. Thomas but migrated to Montego Bay with his father and grandmother at just 3 years old. His father worked on a sugar estate to provide for him and his other siblings. After his father left the sugar estate he went straight into barbering, setting up his shop at San Souci building located on 17 Orange Street. At San Souci, Dada learnt the art of being a good barber alongside his father for seven years.
Dada then ventured into his own barber shop business, setting up shop at 122 Barnett Street, known as Tip Top Barber Salon.The barbering trait definitely runs in his family as one of his brothers, Billy, is also a barber working in the tourist capital.With his barbering skills, Dada taught four of his sons the art of barbering, which saw them all becoming successful plying their trade in the United States and parts of England.
HIGH PROFILE CUSTOMERS
Over the many years in the business, he has trimmed several persons of high profile status such as judges, lawyers, doctors, custodes, and musician Shabba Ranks, whenever he came to Montego Bay for stage shows. "I have trimmed several boys who are now men, and I still trim some of them today. Even Reggae Sumfest former promoter Johnny Gourzong; I trimmed him when he was a small boy. I can remember him coming with his parents to my shop," said a proud Dada.
Over the years, he has copped two awards, the Sam Sharpe Award and the Kiwanis Award for services to the community as an outstanding barber.
At age 74, Dada plans to do another year in the profession after which he will retire.
For a decade now, using Ticka music, he has been trying his hands at show promotion using his famous Clock Tower Club to provide entertainment for thousands of people on a monthly basis. "I hope long after I'm gone, someone will teach the trade to the youngsters just like what I have done," said Dada, adding his gratitude for the support over the years. "I want to thank all the people who have supported my business over the years, both the barbering and the club parties," said Dada.