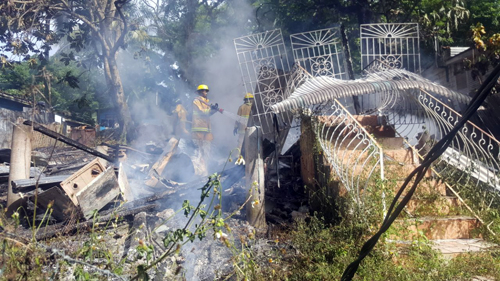 Residents fleeing their homes
Within a 24-hour span, three houses in close proximity were destroyed by fire in Granville, St. James, as the violence affecting the community has resulted in several persons fleeing the area and abandoning their homes.
The first fire, which occurred on Monday morning on Gunns Drive, reportedly started after a barrage of gunfire was heard.
Information reaching the Western Mirror is that about 7:05 a.m., firefighters responded with two units and managed to put out a blaze on Gunns Drive before it could spread to other houses. However, the house, said to have been constructed with board and zinc was destroyed.
Loss is estimated at two million dollars.
The house was unoccupied at the time of the fire as the occupants had moved out earlier. Unconfirmed reports say they moved out following another fire in the area that also resulted in the destruction of several houses.
The second fire occurred on nearby Gordon's Crescent later that day, about 10:14 p.m. Two units from the Freeport station responded and managed to extinguish the blaze but not before leaving at least an estimated seven hundred thousand dollars' worth of damage. This house too had no occupants at the time of the blaze.
On Tuesday morning, the Fire Brigade was again summoned to attend another fire on Gunns Drive. It was a similar case as the first as no one was occupying the space at the time of the blaze.
The Brigade related that when they arrived on the scene shortly after 9 a.m., they found the house completely engulfed. An operation quickly ensued and the fire was brought under control but not before destroying the house.
The Fire Brigade is still working to ascertain the causes of the three fires and investigations continue.
-S.B.