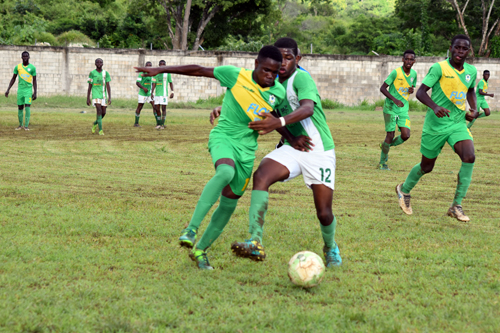 Noelita Lawrence
Staff Reporter
Two games 24 hours apart seemingly took a toll as a sluggish-looking Green Pond suffered a rare defeat, going down 1-0 to Frome Technical in Friday's opening round of games in the ISSA/Freshh Under-16 Football competition.
In a contest they hosted in muddy underfoot conditions, the Green-and-yellow-clad Gregory Daley-coached outfit conceded the vital goal of the encounter in the 17th minute through
The nippy Fabian Forbes eased his way between two defenders, getting on the end of a through ball before slotting in past an advancing Green Pond custodian.
Naheem Scarlet got the chance to increase the advantage three minutes later, but from inside the 6-yard box, he failed to take a shot and was forced out by the covering defender.
Frome Tech dominated the middle of the park and won every 50/50 ball as they held on to their narrow advantage to pull off the stunning upset win.
With the top two placing from Zone 'A' undecided, Green Pond were forced to play against St. James High on Thursday, a clash which ended sometime after 6 p.m., before returning to play again on Friday.
They suffered a 2-0 defeat in that match.
Green Pond must now win their remaining two games in the  round if  they are to advance  to the quarter finals, having missed a  slot in the semis last year by a slender point.
They are down to oppose Anchovy away beginning at 3:15 p.m.
In another game on Friday, a Keshaun Heath strike in the 32-minute steered Herbert Morrison Technical to a 1-0 win over Petersfield.
In other games down to be played involving western schools, Herbert Morrison are at home to Holland seeking back-to-back wins; Irwin opposing Petersfield and Frome Tech, seeking a second win, go up against Cedric Titus.
The final set of games are set for Friday, November 24.