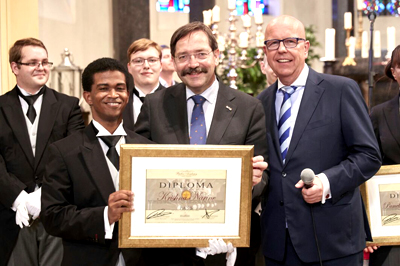 Michael Nattoo – Staff Reporter
Krishna Narine suffered quietly through a life of homelessness, resisted the temptations of lotto scamming, abandoned the influences of taking up a gun, and kept his sights set on becoming a lawyer. He failed to achieve that dream, however, and when depression set in, Narine kept pushing for a silver-lining, and through hard work and perseverance, he found it.
"Life has a funny way of working out sometimes, you know?" Narine, the now 26-year-old Internationally Certified Butler said, as he recalled the twist and turns of his checkered life, which led him away from his dreams of becoming a lawyer, to now finding peace in serving people in a different way.
"I was doing everything I thought would put me on the path to becoming a lawyer," the 5'9" Narine said in an interview with the Western Mirror, "I was participating in national debate competitions, I read material concerning law where possible, and I even ensured to continuously practice whatever I could to keep my eyes locked onto that dream." The former Cambridge High School Deputy Head Boy, however, found that life would not be as clear cut as he had imagined.
Originally from Kingston, Narine grew up in the volatile Jungle area, but managed to keep his focus, despite hardships, and landed himself at the prestigious Calabar High School.
"I grew up with my mother, and amidst the crime and violence, we lived on 'capture land', so that was not stable," Narine remembers of his time growing up in Kingston. He went on to tell the Western Mirror that while trying to find his footing at Calabar, hardships intensified as his mother found it difficult to get a job, and was battling with illnesses at the time. As a result, just two years into high school, and in a bid to move away from crime and to have a fresh start, Narine and his mother moved to St. James, in pursuit of a better life.
"I think we came here about a week before the new school term had started in September of 2005, so it was difficult to find a school to get into," Narine told this newsroom. After making several attempts to get into schools such as Herbert Morrison Technical High, Cornwall College, and other notable institutions, the only school that took a chance on him, on such short notice, was Cambridge High. "Cambridge High School took that chance with me, but honestly, I was reluctant to go there. However, considering that it was close to where my mom and I had been living – Montpellier – I had no objections." Narine would go on to have an illustrious school career at Cambridge High, where he became a Junior Councillor in St. James, Cambridge High School's Deputy Head Boy, and an influential student leader, among other things.
Those achievements, however, were spots of sunshine in a rather dark period of Narine's life
TEMPTATIONS
"While going to school, because of circumstances, for a while, I had to go live with some of my friends. Things got really tough, and it became hard to focus. Some weeks, I would go days without eating, but would still show up to school, until after a time, I stopped going." After briefly stopping school, Narine revealed that a slew of temptations set in, most notable of which was his introduction to the world of lotto scamming.
"I was directionless, and some friends proposed the idea to me. Just as I found myself getting enticed, a few of my teachers reached out to me and offered to help," Narine said, revealing that this was when his life took a turn for the better. "I started going back to school, and with the support, I started doing well academically, enough to land myself 8 CSEC subjects." That trend continued and soon after, Narine ended up back in Kingston, after graduating high school, and attending Wolmer's Boys, where he pursued Caribbean Advanced Proficiency Exams (CAPE) subjects. After reaping success there, Narine decided to apply to the University of the West Indies, Mona. This was to be the beginning of his pursuit of a law degree.
"That didn't work," Narine shared, explaining that his efforts to secure a loan, as well as to get the assistance of others, didn't bear fruit. Broken, he returned to the place he had, by then, considered his home – Montego Bay.
"I tried but when nothing else worked, I started job hunting." This pursuit landed Narine a job in the call centre industry, a feat he was never comfortable with. After 6 months, Narine abandoned those duties.
"I needed something better." In comes Butling – the art of becoming a Butler.
When Narine received a tip that there was a job opening at Iberostar for a Pool Concierge, he immediately leapt at the opportunity. Narine was never successful in landing that job, however, not because he wasn't qualified, but because those who interviewed him saw his skills better suited for a different field of work – Butling. Offered the job, Narine reluctantly accepted.
Now one year and six months later, Narine hasn't looked back.
WELL-PAYING
"I loved it! I was honestly surprised by how well-paying it was, and how much I enjoyed it. The daily cultural exchange I had throughout my interaction with guests was unlike anything I had experienced before," Narine revealed. With this new love, Narine set out to research how to get better at his craft, which led him to the premiere butling institution in the world – the International Butler Academy, located in Netherlands.
"The cost though – yeah, that was something," Narine jokingly mentioned. Having never traveled outside of Jamaica before, Narine stared a daunting figure, if he were to enroll in the Academy, over 3 million Jamaican dollars in the face. Determined to see this through, Narine worked tirelessly for a couple of months, so much so that he was awarded Butler/Employee of the Year. Finally, and through the support of some charitable donations, Narine made his trip to Netherlands, where he would study the many facets of Butling, earning him a diploma and the coveted title of being the only Jamaican to be certified by the world-renowned academy.
"Classes over there were 16 hours per day, and we had to do a number of things – from learning about various wines, various etiquettes, managing private households, and the list goes on." Narine expressed that it was difficult, however, and adjusting to the 7-hour time difference didn't help. But the 26-year-old feels it was all worth it for a career that now puts him in a more favourable financial position.
Now back in Jamaica, Narine has his sights on sharing all that he has learnt, and hopes to work on the international scene someday. In the meantime, learning a second language now has the internationally certified butler occupied.