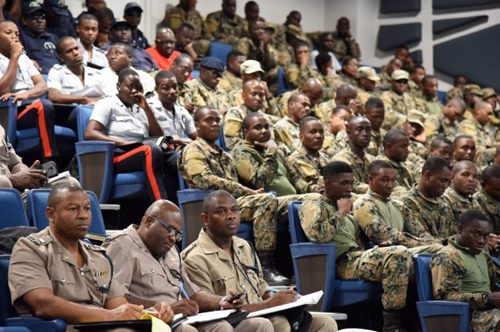 National Security Advisor, Major General Antony Anderson, says the protection of human rights will be guaranteed in the Zones of Special Operations (ZOSO).
Speaking in an 'Issues and Answers' interview recently, Mr. Anderson informed that human rights training for the security forces is a requirement under the Law Reform (Zones of Special Operations) (Special Security and Community Development Measures) Act.
"The law requires selection of the commanders on the ground (and) there is a requirement in the law for them to receive human rights training. The joint forces have received training, and that is ongoing to prepare people to operate within the zones," he said.
Mr. Anderson assured that the philosophy undergirding the Act "is not to target communities but to target criminals holding communities to ransom".
"The idea is to go in and leave the criminals with the least opportunity to carry out what they want to do, and provide as much protection to the population there," he said.
The law gives the Prime Minister power to declare an area a Zone of Special Operations in order to tackle increased crime and volatility in a community. This is in consultation with the National Security Council.
The zone can only be established after the Police Commissioner and the Chief of Defence staff make a request for such a declaration in writing to the Prime Minister.
Prime Minister, the Most Hon. Andrew Holness, has assured that the special crime zones will not be used to infringe the rights of citizens.
He also said that the law would not give powers equivalent to a state of emergency.
Justice Minister, Hon. Delroy Chuck, said custodes and justices of the peace (JPs) have a critical role to play in ensuring the protection of citizens' rights, once an area has been designated a special crime zone.
He said once a person has been detained, the police will have to convince the JPs that the person is suspected to have committed a crime.
"If the JPs disagree, then the person must be released. If the JPs agree, within 24 hours that person must be taken before a parish judge," he said.
Mr. Chuck said that the JPs should also be present, especially when the security forces are conducting searches.