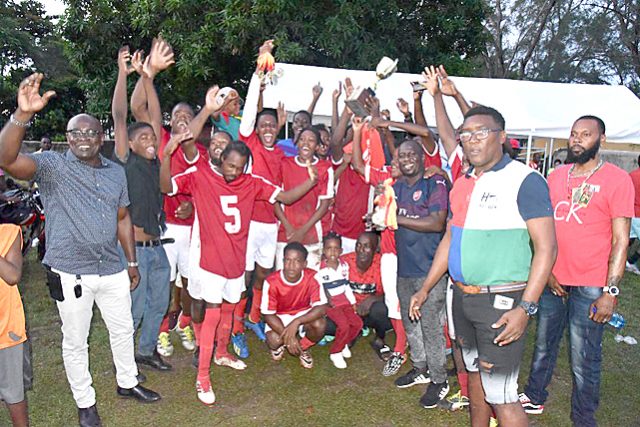 Written By: Craig Oats
Playing in front of what may have been one of the largest crowds seen at Watson Taylor Park in recent times, Super Stars and Blenheim were crowned champions of the Hanover Football Association Conservit-sponsored Major and Division one Leagues respectively.

Blenheim and Central played to a 0-0 draw in full time and extra time, before the eventual champions held heir composure in the penalty shootout, winning 4-3 to send their supporters into wild cheers.
Blenheim's win saw them pocketing the Division One title along with the winners' trophy and $50,000. They, along with Central FC, will now be promoted to the Major League.

MAIDEN TITLE

In the feature clash, Superstars, marshaled by two brothers and who qualified for 15 straight semi-finals, finally got it right on their way to lifting their first ever title, carving out an efficient 2-1 win over Esher FC.

It was ex-Rusea's High striker Roydel Moncrieff who opened the scoring from the penalty spot just 12 minutes in.

Both teams continued to go on the offensive and the half ended 1-0.
On resumption, Leon Moncrieff, brother of Roydel, increased the advantage for Superstars, forcing home from inside the box after a nice build up.

Esher fought back gallantly late on but struck too late (90th minute), despite several chances. Referee Damion Coombs signaled the end of the match, sending the Superstars supporters in a frenzy.
Winning coach, Orane Kentish, was delighted with the victory. "I am so happy with this win. The community really needed it and I dedicate this win to all the persons, namely the players, who worked hard to achieve it," he said.

He also added that the team is now looking ahead to their participation in the JFF Western CONFED.

Superstars got $100,000 for their victory and Esher received $70,000.
AWARDS

Meanwhile, Kevon Brisstte received the Leading Goal-scorer award in Division One, while the Most Valuable Player went to Anthony McLaren and Omar Gayle, the winning coach.

In the Major League, Okoye Donaldson copped the MVP award, Devontae Nelson the Best Goalkeeper and Orane Kentish named Top Coach.

League director Kenneth Williams was pleased with how the season unfolded. " We (FA) are very pleased with how the season went. The finals lived up to expectations and we had a bumper crowd; we now have a new sponsor so come next season, we will be up and running quite smoothly expecting bigger and better things," he said.