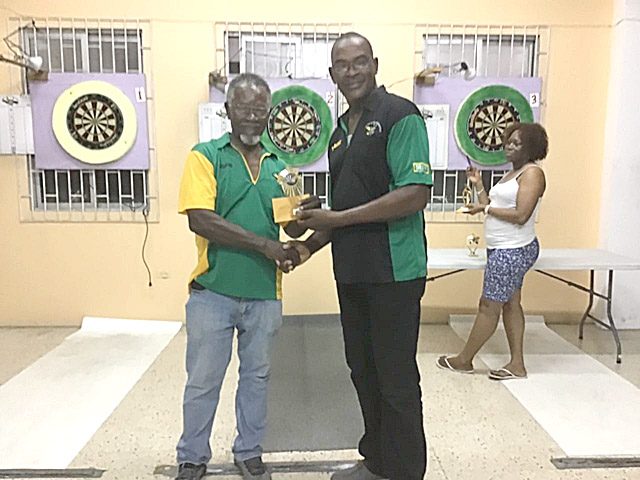 Lynford Jonas of reigning National Champions MoBay Darters, topped the Men's A Division of the Jamaica National Darts Association Ranking Tournament held at the Montego Bay Cricket Club recently.

Jonas amassed 8 points to top the division from a field of 8 competitors. In second place was Mark Birthright, with six points, Shawn Noteman third with 4 points, and Winston Ferguson fourth, also on 4 points. Theodore Wynter, Damion Cheese and Dwight Smith and Winston Ferguson ended with 2 points each.

Many times National representative Mernel Brown dominated the Ladies A Division with 6 points , followed by Kemayia Wills 4, Novlett Bewry third with 2 points and Kerrice Moxam, who also sored two points, landing fourth place.

Fitzroy Ellison turned back all challengers to capture the Men's B Division Open, gathering maximum 8 points to Romario Montaque, who was second with 6 points, Rahieme Scarlett notched third place with 4 points and so did Donte Burchell, also on four points. Wayon McKenzie Ruel Rowe and Tavarri Downie all tied on 2 points each.

Tavarri Downie emerged the winner in the Youth (Boys) Division after logging six points, while Raheem Scarlett was second on four points with Ruel Rowe and Ramorri Montaque third and fourth respectively on two points each.

Denee Whittle took the Youth (Girls) Division over second placed Shanna Headley on 2 points. Kemayia Wills and Lesha Steele were third and fourth.