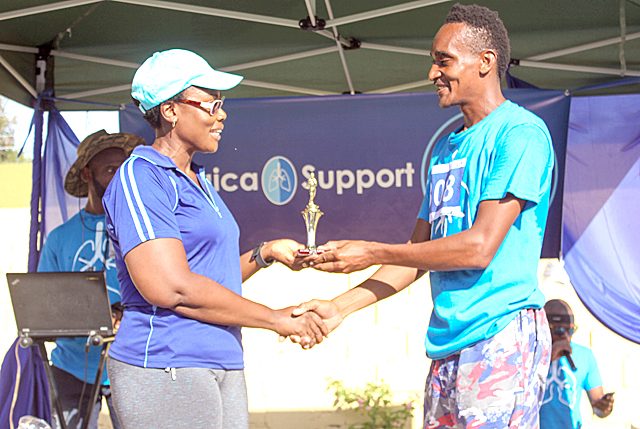 Tyrone Williams of Azul Beach Resort in Negril won the inaugural staging of the Jamaica Lung Support Pulmonary Disorder 5K Awareness Walk, staged in Montego Bay on Emancipation Day.
Second place went to Keith Fegan, while Williams' teammate, Denva Montique, brought further glory to the Azul Beach Resort by placing third.
The walk commenced and ended at Gantry Road at Fairview Shopping Centre, onto to Howard Cooke Boulevard and to the Urban Development Corporation's playing field and back to Gantry Road.
Marie Ricketts-Scott, Support Coordinator, Jamaica Lung Support, indicated that the 5K walk was staged as part of efforts to raise awareness about the seriousness of respiratory diseases and bring attention to challenges facing those affected by respiratory disease .
Ricketts-Scott further explained that despite lung diseases killing 4 million people every year, most people are ignorant about lung diseases.
"Most people, when they think about the lung, think about lung cancer. However, there are diseases which can affect the lung outside of cancer. One such is Pulmonary fibrosis. Pulmonary fibrosis is the progressive scarring of the lung for which there is no known cure and, in most cases, the cause is unknown. The disease is termed Idiopathic Pulmonary Fibrosis (IPF) when the cause cannot be identified," she explained.
She noted that there are currently no facilities in Western Jamaica catering to individuals living with respiratory diseases; such as interstitial lung diseases, COPD, or Pulmonary Fibrosis, etc. Individuals living with these conditions are forced to travel to Kingston for care.
The Pan-American Health Organization (PAHO) mortality causes report shows respiratory disease as the fifth biggest killer in Jamaica.