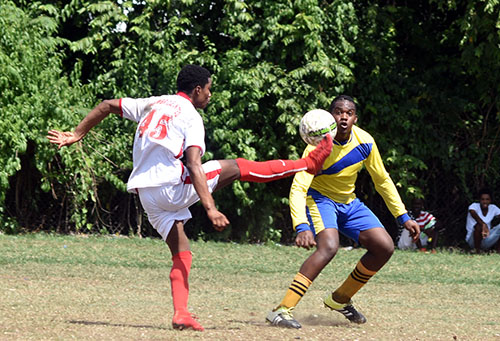 Noelita Lawrence-Ricketts
Cambridge are the new leaders of the St. James FA Sandals Resorts International Under-20 competition after a third win, while Bogue pulled off a stunner,and Montego Bay Boys' and Girls' Club (MBBGC) climbed to nine points following Monday's round of games.
Cambridge rushed to the top of the standings by a single point, amassing 10, after a third victory in four matches, slamming West Green 3-1 in a lopsided showdown at West Green.
Okeen Allen sent the fancy-playing Cambridge ahead after 9minutes, but they were pegged back minutes in, before Alex Humphrey and Rainnor Barnes made the points safe with strikes in the 24th and 84th minutes.
John Marc Myrie, with an equalizer in the 12th minute, had given West Green a glimmer of hope.
Meanwhile,the versatile Matthew Thorpe, who is set to leave for the United States on a scholarship late next month (August), found a powerful header minutes from full time to propel MBBGC to a struggling 1-0 win over a tottering Heights at the UDC field.
After several missed chances and huffs by the star-studded MBBGC, Thorpe, operating on the wing, arrived unchallenged at the back post to send home a well-guided header into the back of the net, getting on the end of a weighted delivery from Shavon McDonald.
Heights too had their moments in the contest, forcing three good saves from the opposing goalkeeper.
One tipped over the bar from a free kick, another directed around the corner by a flying save and another stopped at the front post, on its way in from shots on the run just outside the 18-yard box.
The unimpressive victory by the Boys' Club team lifted them to joint 9 points with disposed first place occupiers, Flanker, but below on goal difference.
SHOCK RESULT
Elsewhere,the prolific Sanjay Patterson, Philip Eubanks and Michael Williams, the last two a minute apart, all found the back of the net as unfancied Bogue pulled off a stunner, stinging the highly touted and previously undefeated Flanker United in a five-goal thriller (3-2).
Bogue, with what was their first win of the season after two straight draws, stayed fourth but improved their points tally to five, while Flanker, entering the showdown occupying top spot, slipped to second following the defeat.
West Green were also in winning form and ticked off their first, slamming rock bottom club, Norwood FC, 4-0.
Rojae Edwards found the opener 16 minutes in, as West Green held a slender 1-0 lead at the halftime break.
Roqqayne Thompson, Anthony France and Antonio Kerr in the 51st, 59th and 81st minutes respectively, added the others as they completed the victory charge.
Montego Bay United, yet to tick off a win, come head on with Bogue later today, Wednesday, July 24, at the UDC field beginning at 3 p.m.