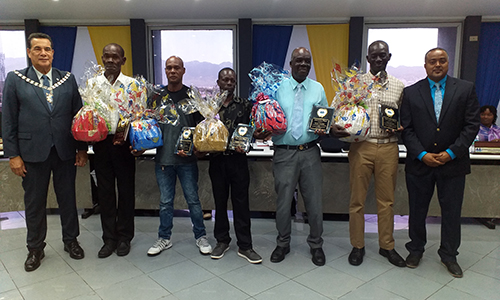 Clinton Pickering – Freelance Writer
Last Thursday marked a historical milestone in the St James Municipal Corporation on how it treats the least among its various categories of workers.
In an unprecedented move, Corporation Chairman and Mayor of Montego Bay, Councillor Homer Davis, placed five public cleansing workers on a pedestal and presented them with plaques of appreciation and gift baskets for the contributions they have been making to the cleanliness, health and safety of Montego Bay.
Vernal Smalling, Gary Dobson, George Thomas, Simon Watson and Levi Irving were honoured guests at the regular monthly meeting of the corporation for a presentation that Senator, Councillor Charles Sinclair, himself a former chairman and mayor of Montego Bay, lauded as the best gesture he had seen since being a councillor.
Presenting them, Mayor Homer Davis commented on the public at times questioning why certain things were not being done in the city and noted, "Sometimes persons don't understand that there are persons who go, in my opinion, far and beyond what most of us would have done in making sure that our drains and culverts within the city are cleaned."
He said most of the drains and culverts the men had to clean were as much as 40 years old, "and I'm sure that most of us would not want to be near to see some of the things that they are encountering and taking out of these drains."
Mayor Davis alluded to the problems and challenges in the city, and how some people behave, not in the best interest of each, "and so we have men, who, as their daily tasks, go around and keep these drains clean so when it rains they don't flood that easily."
Having consulted with Superintendent of Roads and Works, Bryce Grant, on "giving credit where credit is due," Mayor Davis voiced that "sometimes we tend to recognize those in high places or who we regard as those in high places but I recognize persons for their work, not the position or the place that they are in."
In his endorsement, Senator Sinclair commended Mayor Davis for the "very good gesture," declaring, "It is the best gesture I've seen since I've been at the St James Parish Council, now Corporation."
MOVED TO TEARS
Senator Sinclair went on to make an impassioned plea for a former member of the cleaning crew, Joseph Hamilton, to be recognized also posthumously. He argued that Hamilton was treated very shabbily by a former administration and a fight had to be put up for him to get some compensation after "working so hard" over many years, as he was told "that he had to go and they refused to give the gentleman even a gratuity."
As he recalled the case, Senator Sinclair, who admitted to being seen as a tough person, was moved to the point of shedding tears and had to pause in his presentation as he became choked up and slumbered in his chair until he recovered.
Councillor Michael Troupe, the only PNP councillor present at the time, congratulated Mayor Davis for acknowledging the workers. "I've been here for over 20 years and I know and I saw the work that they have been doing," he said, adding, "I'm always saying sometimes when we put on big things at parade and getting people big plaques, we must always involve even one of our own staff and today, you have demonstrated that these gentlemen are one of the most important (groups) among us."
Councillor Troupe, who once served as deputy mayor, admitted that "sometimes (when) I saw the work that they are doing, I turn my face the other side because the stench that comes from those drains, and sometimes they just take it on like is nothing."
To councillor Davis, he said, "I want to big you up Mr. Mayor; it's not all the time we see eye to eye."