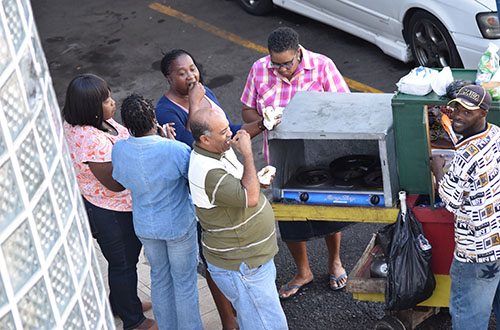 With the harsh economic times threatening to derail the lives of many Jamaicans, Stafford Llewllyn, popularly known as 'Natural', has refused to be gobbled up by the system of failure.
The 42-year-old father of five, who hails from Cornwall Mountain in Sav-la-Mar, Westmoreland, but has since made a home in the Dumfries area of St. James for over 10 years, is a man determined to survive.
'Natural' is the owner and operator of the 'Tea Cart', a rare form of mobile food truck operated on a cart he pushes to and fro in and around Montego Bay, mainly between the Charles Gordon Market and the Western Mirror on Cottage Road.
The broad-smiling man, who disclosed he only has a primary school level education, says he has been doing this kind of job for the past 15-plus years, a means he uses to care for his children.
"Aah started out a long time ago. Me first use to sell juices till me said me wanted something different, something quicker, faster, something that would make make more money, so I decided to get a cart and do me likkle ting".
On a given day, one can stand around the cart and watch as a fried or boiled egg is prepared and served with either white or brown sliced bread.
Plantains (ripe and green), the national dish of ackee and salt fish, along with callaloo, are also served from 'Natural's' cart.
For a hot beverage, one can pick, choose and refuse as the likes of Milo, tea bags of various brands, ginger, mint and also coffee can be had at the mobile cart, which houses a stove fuelled by gas.
A popular figure with taxi operators, construction workers and others, 'Natural' says he hopes his meals can go a long way each day in satisfying those who consume it.
One customer who was at the cart when the Western Mirror chatted with 'Natural', said "The food is very good and somewhat of a difference from the everyday dumplins, bananas and other foods served in the restaurants." She also noted that it was nice to be able to see what is being looked after then and there.
"It really good to see what you eating and how it prepared. Plus, it taste good and even if you trouble with pressure you can eat the salt fish, because it not too salt… it good, it really taste good," she said, biting down on her callaloo sandwich.