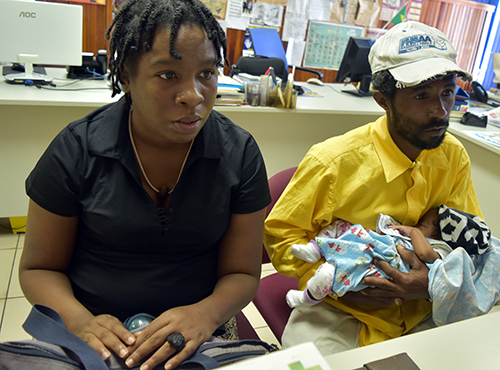 Parents of stolen baby plead for help
Sashane Shakes – Staff Reporter
To say Walton Evans, 41, and common law wife, 34-year-old Latoya Whyte, have had the going tough, would be a gross understatement. Earlier this year, on Friday, January 4, 2019, the couple's then newborn, Vernisha Evans, was abducted from the Cornwall Regional Hospital car park. In that incident, Whyte entrusted a woman to hold the newborn as she went to the bathroom, and upon her return, she discovered that the woman had left the premises with the infant.
Although young Vernisha made it safely back to them, Evans' burdens, those current and from the past, have him terrified that he may lose her again, just like he lost his first daughter ten years ago.
Evans revealed to the Western Mirror that in the case of his first daughter, who will be turning 12 in May of this year, he was deemed unfit to care for her."I had my first daughter on my handcart in the market and them come down there come take her from me." In three (3) desperate attempts to get her back and on two (2) occasions, "they said I was dirty and the third time I was late," he shared.
Since then, he has not been able to get over the memory of the Child Development Agency taking her away from him, and now, with the couple's financial situation looking as bad as ever, Evans in particular has been nothing short of paranoid.
The tearful father shared that he has had to be following his common law wife around almost everywhere, for fear that at any moment, his beloved daughter may again be whisked away. Beneath that paranoia lies a very harsh truth – neither Evans nor Whyte can afford basic necessities to care for young Vernisha, rendering them helpless should the CDA decide to act again.
"It rough man. I can hardly afford to buy feed for the baby and when mi done buy food for me and Latoya, I can't even buy yam at the market. Is 'Badoo' that grow in we yard me and Latoya eat," shared a crying Evans.
'BAD LUCKY'
Whyte, who is unemployed, stays at home with Vernisha while Evans works in order to maintain upkeep of the household. Evans is a contracted worker for the National Solid Waste Management Agency (NSWMA), with whom he just renewed his contract, which will see him being paid $19,000 bi-weekly once he starts working. Currently, however, as a street cleaner, he is unable to do much. Evans relayed that he is unable to work on the NSWMA truck due to having a bad back after being hit down by a car while sweeping along the Lilliput main road. He shared that he was struck down a second time by a bus in Freeport, Montego Bay.
"Sometime me have to sit down and wonder why me so bad lucky so. Me just bad lucky bad," said Evans.
He has had to be doing a few odd jobs just so his family can make it through the day, one of which includes selling sugarcane for a woman who lives in his area. Evans has also found himself converting wire to copper, and collecting bottles and selling them to wholesale and retail supermarkets. "Is not that me really want to do these things but me rather do a honest job than go thief," said a humble Evans.
The couple and their child share a two-bedroom dwelling at Tangle River in St. James, but Evans has hopes of adding a small bathroom and kitchen, as those amenities are currently separate from the house, which is proving challenging with the new addition to his family. "Me keep my house clean and in good condition but I need to add the bathroom and kitchen because that will be better to raise my daughter," he said in his interview with the Western Mirror. "100 blocks go for around $12,000 now, but me need around 200 blocks to start and I can't afford it with the pay I'm going to get," he added.
Despite those struggles and pressing needs, Evans insists that his living conditions are much better.
"Three social workers evaluated the house and I passed the test. The house is fit to raise our baby in but I need the extra help," he shared.
The couple has done the best they can to stay afloat, but things are increasingly becoming tougher, as though Evans has a renewed contract with NSWMA, he will have to work a month before getting paid. In the interim, their living expenses are skyrocketing, and the centre of their world – baby Vernisha, may feel that harder than any of them. As a result, the family is pleading for any assistance they can get.
"It nuh have to be money," Evans pleaded, "but the baby need clothes and other little baby things."
Anyone wishing to assist Walton with clothing for his child, the baby's mother and himself, as well as food, toiletries and/or cash, can do so by calling him at (876) 586-8977 or (876) 497-2479.