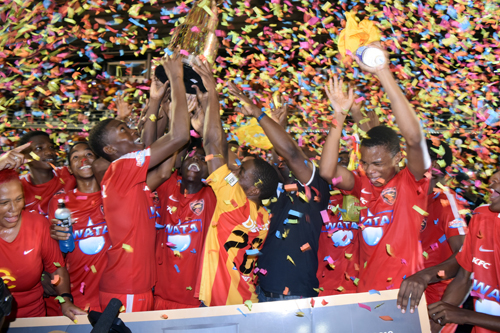 Michael Nattoo – Staff Reporter
Western Jamaica has had many things to be proud about this year, but perhaps none more so impressive than the historic, undefeated and fairytale-like run of the Orange Street-based Cornwall College. The air in the West is different now – euphoric, tense, prideful, and anticipating another monumental victory, all inspired by the play of a team that, through grit and determination, ended the dominance of Corporate Area schools, dismantling Jamaica College and signaling the undisputed reign of the West in schoolboy football.
And, come this Saturday, the boys in red and gold will look to add another jewel to their crown, for glory, for honour, and for Western Jamaica.
It must not be mistaken, however – what the Cornwall College team did this season was nothing short of miraculous, and though many would admit that such feats are hardly foreign to the Men of Might, it is that much more striking when one considers that to date, in terms of experience, this team stands as one of the youngest they have ever assembled.
Yet, against all odds, they have managed to forge a legacy that for years to come, will be pinpointed as the moment in history when Cornwall College, shouldering the ambitions of the West, stepped up to the pitch, aimed their intentions and rifled home the fact that no more would Urban Area schools stand on the throne of schoolboy football.
In 2014, in the then Super Cup, and in 2016 in the Olivier Shield, Cornwall College, despite the incredibly talented pieces then at their disposal, fell to Jamaica College. Though their struggles slowed them down, the Pleasant Hill boys never lost sight of the process, and even after losing some of their key talents, Dr. Dean Weatherly ensured that the mission remained the same: dominate at the slightest possibility of doing so. It's been a long time coming, but the boys finally did. They not only exacted revenge, but in their pursuit of greatness, the 2018 Cornwall College da'Costa Cup team managed to make their campaign a lot more than football.
Don't look now, but at every Cornwall College match, at some point among the hundreds of patrons, you are sure to see even rivals cheering for them. This is the power of the chemistry and camaraderie Dr. Weatherly spoke so highly of.
There is something unique about every Cornwall College football squad, but this one has managed to turn its most basic strength – unity, into perhaps their most potent weapon. "They cover for each other," is what Dr. Dean Weatherly would tell you, and that spirit of brotherhood extends far beyond the pitch, making their chemistry on it that much more genuine. People who have watched the Cornwall College players, inside and outside of practice, inside and outside of games, will tell you that they truly are close individuals – family even, and they protect that dynamic fiercely. Whenever a player messes up on the pitch, he is not chastised by his teammate, but is rather encouraged. For the close-knit Cornwall College squad, it is always on to the next play. And for the mission before them this Saturday, that remains the same. It is for that reason why Dr. Weatherly, who has been at the helm of Cornwall College's football since 1991, found it so easy to preach to them his philosophy of championship-winning defense, which they have seamlessly adopted.
'Champions Cup title holders' certainly has a nice ring to it for the Cornwall College boys, but they are in no way content with just that. For the squad, they know what's at stake, and with the West behind them, there is no question as to whether or not they are ready. Wolmers, Camperdown, St. George's and Jamaica College were casualties to Cornwall College's laser-like focus, and come Saturday, though the ball is round, there should be none in the West to believe that their opponents won't suffer the same fate.
Victory or not, this is the year of Cornwall College. And by the sweat of their brow, they have earned it.