From the streets of Anchovy to the world stage, former Jamaican super featherweight champion, Nicholas the 'Axeman' Walters, is back home and is imploring troubled youths to use boxing as a way out of poverty and trouble, as well as a way from guns.
Walters, who is in the island for a short visit, made the declaration on Thursday morning, November 8, while speaking at the Montego Bay Cricket Club during his support of the 'Gloves for Guns' campaign launched in Montego Bay, and the signing of a Memorandum of Understanding between the local boxing board and the Cricket Club.
"You can make a career out of boxing," Walters declared. "You can use the sport of boxing to get out of trouble, off the streets and make life and living much better," Walters noted. "Boxing is big business and many can make a career out of it, they just need the right things in place."
Walters, who was named Sportsman of the Year back in 2014 following his exceptional showing on the world stage that year, revealed "great opportunities can be had by youths who choose to turn to the sport".
He also lamented on the lack of support from corporate Jamaica and called on business owners and those with the capabilities to come on board and assist in whatever way they can.
"All the business people here in Montego Bay, we need some support from them, coming on board and making dreams a reality," Walters declared, "it can be realized it's just a matter of coming together and making it happen."
Now a resident of Panama, Walters also highlighted the need for a fully functional gym in Montego Bay and his delight of the new direction being taken by the Jamaica Boxing Board in preparing to join forces with the Montego Bay Cricket Club in getting a gym up and running in MoBay.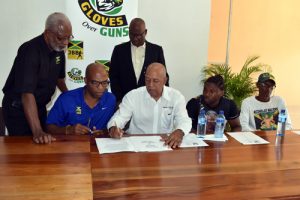 "This has been talked about for many years now and finally, it is about to come on board and I am totally giving it my support," Walters said.
This kind of thing should have been here a longtime, the West. Montego Bay, St. James, is known for sports, all kinds and with so many youths losing their way in recent times, a gym where they can go to punch, get advice and guidance, can be the way out of trouble," he remarked to the Western Mirror.
'What is happening now, a place like this should (the gym) be located at the Montego Bay Cricket Club's third floor. It is long overdue, but it's coming now and I'm in support of it," he said. "It will be good for the city," he added, smiling.
He declared that the boxing gym, which will see the users being under the guidance and supervision of his father Job, should be used as a tool towards getting youths totally involved and on a journey towards professional boxing.
BACK IN THE RING
Thirty-two (32) year-old Walters who hails from the hills of Anchovy and who shot to stardom from nothing under the guidance of his father Job, says he has still been training despite taking a slight break from the ring.
He revealed to the Western Mirror that he is preparing to get back into the ring as soon as possible by the end of this year or early next year.
"I'm working on a few things and a fight will definitely take place by the end of the year or early next year," he noted. "I and my camp are working on getting back in the ring. I've been out of the ring for a while, but still maintained a training method."
"First, I'm trying get back down to 130 pounds," he said, "I've been training lately, and now that I'm here, I will be using the hills to good effect, getting some strength work  in, because I've not been competitive in recent times and as you can see I've packed on some pounds."
Walters, whose last bout was a sensational defeat to Vasyl Lomachenko of Ukraine, back in November 2016, has a ring record of 26 wins from 28 bouts, with one defeat.
Walters, who attended the Roehampton Primary and Anchovy High School, debuted as a professional back in 2008, and has 21 of his wins by way of knockouts.
Noelita Lawrence