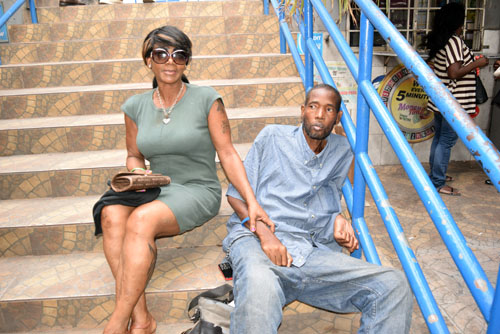 Alan Lewin
Girlfriend won't leave DJ despite his sickness
"I will not leave him because he is sick; when he was in his prime as an entertainer, he used to treat me good and made me happy, so it's my time to show my appreciation". These were some of the words uttered by Charmaine, the fiancée of Montego Bay DJ, Junior History.
Junior History was a very popular DJ in St James in the early 80's, and a member of the duo consisting of him and Cat Paw. They brought some top class entertainment to many with their witty styles and stage performances, especially their Sam Sharpe dance which was a hit for some time.
But in 2014, History's health had become progressively worse to the point that he had to put an extended pause on his career. Having pumped his resources into health fees, he has now resorted to appealing to the wider society for financial assistance, as his medical bills keep piling up. In August, he was admitted to the Cornwall Regional Hospital for eleven (11) days, but was discharged after, according to History the doctor said they can't diagnose what has caused the deterioration of his health after several blood and stool tests were done. One thing for sure, he was quick to show his HIV negative certificate to dispel all rumours that he had H.I.V.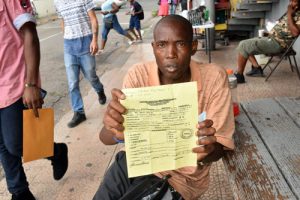 'I have no Aids, no diabetes and no kidney problem. All I have is poor blood circulation and this caused a low flow of the blood to the lower section of my feet and caused it to soar. I have to go to the clinic three times per week to get it dressed and this costs me a lot, so I'm appealing for help." He went on: "I'm not afraid to beg for help. I'm very sick and want to get back on my feet."
Just three years ago, his daughter, Madusa, who was a very popular dancer, died from gunshot complication while she was pregnant. His fiancée for over 13 years now, Charmaine, is also appealing to History's fans to help him, as she is finding it very hard. "Sometimes I have to do a little bar work or hairdressing to help feed him. I cook for him at least four times per week. He has a ten-thousand dollars a week expense to charter taxi to and from the clinic, plus to buy food to suit his daily diet and medication. Anyone who can help it will truly be appreciated," said Charmaine.