Michael Nattoo – Staff Reporter
Four murders rock St. James
Even though the guns have somewhat been silenced by the imposing State of Emergency, the sharp edges of the knives and machetes have seen a surge in popularity, becoming the weapons of unquestionable mayhem in St. James.
Though new information continues to be uncovered in the wake of the tragic double-murder-suicide that has been on the lips of many, residents in the community of Paradise, Norwood, have seen their anxieties heightened, as last Friday morning, 21-year-old Okema 'Cindy' James, was found dead inside her apartment.
Just hours later, the body of Okema's longtime neighbour, 19-year-old Akeem Watson, was found along the Home Hill main road leading to Ironshore, chopped beyond recognition. It is believed the deceased man was involved in the death of the 21-year-old, and allegedly met his demise at the hands of angry residents who had no qualms about unleashing their own brand of jungle justice.
In an exclusive interview with Okema'smother – Marcia Cobron, it was revealed that the youngster had left their home at King Street for her grandfather's place in Paradise, Norwood, for the sole purpose of studying.
LEFT HOME TO STUDY
"My house is too noisy, so she told me she needed to study and that she was going by her grandfather's place, so I said OK," Cobron revealed to the Western Mirror. Cobron further added that it was not uncommon for the former Irwin High School and HEART student to do that, so there was no reason to be suspicious when she mentioned that she would have. "Yes, she would go there on the weekends, and would come back home afterwards on Sundays or so. She was preparing for her exams, as she would have graduated from her waitress training course at HEART in November, so I understood why she needed to go study in silence," the grieving mother relayed.
On Friday, September 21, 2018, James was reported to have arrived safely at her grandfather's house, which was empty, as her grandfather had been out. James Dennis, otherwise called 'James Bond' or 'Movie Star' – grandfather of the deceased, further corroborated that account when he spoke to the Western Mirror.
"Yes sah, I was out. Cindy bredda did go check pon her early on in the day, and him seh she did alright, so by the time mi reach back home, mi did just go straight to mi room. Mi not even did think fi go check if Cindy alright 'cause dem seh she did alright," Dennis explained. He continued: "When mi go in, mi realize seh mi fan did missing from mi room, and mi did just a think seh well, you know young people, dem need comfort, especially when dem a study, so mi neva seh nutn. A neva till mi son go round dere dat mi realize she something did wrong." Dennis revealed that after his son went to check on Okema, an alarm was raised: "Daddy, Cindy dead."
GRUESOME DISCOVERY
"When him seh dat, mi seh 'Wa you seh? Wa you mean Cindy dead?' When mi go round deh go look, a dat deh time deh mi see it. Dem deal wid Cindy wicked man, wicked I tell you! A just blood mi see, all bout di place and pon di floor. Mi couldn't believe seh dem kill Cindy, couldn't believe," Dennis lamented. He further revealed that he is yet to fully clean sections of the room, because he was still shaken, and still needed time to process what had happened. As a result, "All now blood still in deh pon di floor," Dennis explained.
The 21-year-old Okema Cindy James' body was found with multiple stab wounds. It is unclear what events led to her demise.
'BULBY' SUSPECTED, KILLED
Though unconfirmed, Dennis revealed that he was told by a neighbour that a young man, who lived across the street from him, was seen running from the house in his underpants, moments before he got home.
"Somebody, and a nuh just one person, tell mi seh dem see him, dem see di bwoy 'Bulby' (alias of the accused) a run from outa mi house inna him underpants," Dennis said. "You know di worst ting? 'Bulby' is a bwoy weh mi grow innuh, mi know him from him a likkle bwoy. Him all come inna mi yaad come ketch waata sometimes, and den fi know seh a him do dis to mi granddaughter, mi really can't believe it."
The allegations against Watson ('Bulby'), have not been confirmed. His body was found hours later alongside the Home Hill main road, visibly disfigured from multiple chop wounds it sustained. No suspect has been arrested in connection with that gruesome find, despite several reports that he was chopped to death by residents who suspected his involvement in Okema James' death.
'SHE WAS A NICE, QUIET GIRL'
Marcia Cobron, still grieving from what happened to her daughter, revealed to the Western Mirror that her daughter was a nice girl who didn't talk much, and was focused on her studies. This is a statement supported by her grandfather, Dennis, who added that she (James) was not about anything that didn't contribute to her studies, men included.
"Now, everybody is just shocked. You know, she was to go to Type 5 that morning because she had an appointment, and it looked like the guy went in on her then. Everybody is just sad and shocked," Cobron said.
MORE ON THE DOUBLE-MURDER-SUICIDE
Meanwhile, as residents from Poinciana Close, Rosemount, mere minutes away from Paradise, Norwood, continue to struggle with accepting the circumstances surrounding the murder of Gas Station Supervisor Dionne Smith, 45, and her daughter, 16-year-old Jayshenel Gordon – a Herbert Morrison Technical High School student, reports are that the deceased were well-loved by members of the community.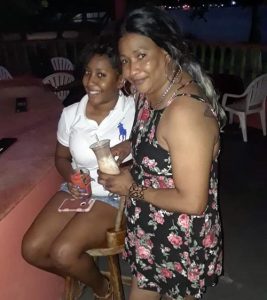 "She was a loving girl," one resident said of Smith, "she always checked for everybody. She was good to all of us and we feel bad about what happened."
Another resident disclosed to the Western Mirror that at points, she would hear Smith and her common-law husband, Fabian Lyewsang – the suspect whose body was later found in his Nissan Tiida motorcar in the Rio Cobre in a suspected case of suicide – arguing, and that they would sometimes intervene. "I never thought anything of it that time and was in my bed. I didn't hear a sound, so I didn't know anything was going on around there. It's such a sad situation really," the grief-stricken resident added.
"A 51 years mi live ya so, so mi know her [Dionne] from she a likkle girl and fi di bwoy go cut di gyal throat and kill di pickney so? Mi sorry seh we neva get to him before him kill himself. Dionne was well-loved and well-mannered. She came from nothing to something and for her to just go out like this, it really, really bad," a concerned senior shared with our newsroom.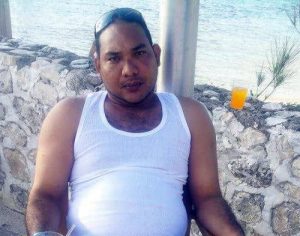 According the CCU, about 2:30 a.m., Smith and her spouse, who was reportedly unemployed at the time, were allegedly embroiled in an argument, during which he used a knife to slash the throats of Smith and Gordon.
Despite several reports swirling that the gruesome scene was as a result of jealousy and infidelity, several creditable sources have rubbished those claims, citing that Lyewsang had no reason to question Smith's loyalty to him, and instead seemed to have snapped for undisclosed reasons.
Investigations are ongoing.