Michael Nattoo – Staff Reporter
Although the police were able to recover an illegal firearm from the community of Irwin on Wednesday morning, residents found little to celebrate as in the aftermath of an alleged shootout, two young men, both cousins, became the latest bodies to tally on the list of 2018's fatal shootings.
Dead are 19-year-old Owen Jenkins and 21-year-old Danrick Campbell, both of Chelsea, Irwin, St. James.
According to information reaching this newsroom, the men were fatally shot during a confrontation with the police around 3:55 Wednesday morning, but Owen Jenkins Snr, grieving father of one of the deceased insists that those claims could not be further from the truth.
Instead, the grief-stricken father is claiming that his son and his son's cousin, Danrick Campbell, were victims of unprofessionalism and sloppy workmanship on the part of the lawmen.
UNPROFESSIONAL POLICING
"I was at my home you know, and mi get a call seh police shoot up di house. When I reached the house, I saw yellow tape and I was told I could not pass," Jenkins recalled to the Western Mirror. He continued: "What I don't understand is this – if the police get information seh wanted man deh inna di house, a two-room house at that, dem nuh muss get information whether a more than one person live inna di house?"
Jenkins' frustration was further made evident when he questioned the lawmen's tactics. "If a one man dem come fa, even if a wanted man, you nuh affi kill him, you nuh can bring him to justice? Why dem jus' shoot up di place – shoot up di two room dem – and kill innocent people in the process? How dem expec' parents fi feel under dem conditions ya? We are humans, and dem police ya mus' change dem ways!"
THE GOOD SON
Jenkins Jnr, according to his father, was not a troublemaker and was an honest son who did not deserve to die in such a way. "If dem [the police] did do dem work pon a professional level, dem woulda know seh mi son was an innocent person. He operated a game shop for his mother in the day and as night come, he would come back home. A Saturday gone me bury mi mother, and he was there with me. I watched him and his sister take pictures at the funeral together and I felt so good, and dem just come kill di likkle yute suh?"
Jenkins Snr additionally explained to the Western Mirror that he was sure of his son's good character, and that it's one that the entire community of Chelsea could attest to.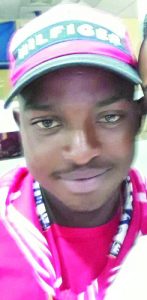 When quizzed as to why his son might have been caught in the alleged confrontation with the police, Jenkins explained: "As far as mi understand, dem did want him cousin, who was there in the house with him, but dat nuh give dem no right to shoot up the house! Mi know seh mi son wasn't a bad man, him nuh have no gun, and even di next man wa dem kill (Campbell) neva have no gun in all of that! Him neva did a shoot offa dem, but a him dem did come fa," he affirmed.
Jenkins maintained that had the police been more tactical in their approach, his son would not have been a casualty in their operation.
EVENTS ACCORDING TO THE POLICE
Despite Jenkin Snr's conviction surrounding the details of his son's passing, the police reported drastically different circumstances that led to the deaths of both men.
According to their reports, an early morning intelligence-led operation saw a team of officers descending on a house at the aforementioned address, which was believed to be housing wanted men. Details further revealed that the lawmen swiftly cordoned off and surrounded the two-bedroom apartment.
A knock was then made at the front door, following which the lawmen allegedly announced themselves.
According to reports, they were immediately greeted with gunfire. In the height of that exchange, two men reportedly rushed through the backdoor of the house, all the while opening fire on the officers.
The lawmen reportedly took evasive action and returned fire, and shortly after, the shootings subsided. Both men were found in bushes suffering from what appeared to be gunshot wounds. They were taken to the Cornwall Regional Hospital where they were pronounced dead.
A Taurus 9mm pistol fitted with a magazine containing two live 9mm rounds was recovered from one of them.
MOTHER SPEAKS
Ferrista Gordon, mother of Owen Jenkins Jnr, spoke to the Western Mirror, expressing how heartbroken she was at the news of her son's death. Gordon revealed that her son had just secured a job as a lifeguard and was scheduled to start on Monday.
Investigations are ongoing.