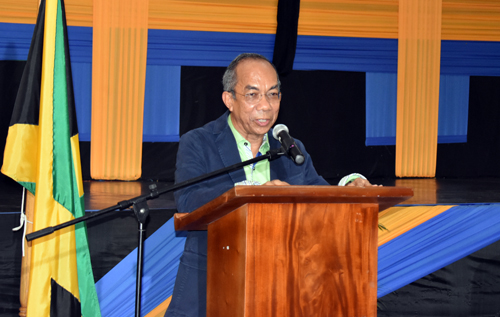 Barrington Flemming – Staff Reporter
In another 12 days, the authorities in the Western City of Montego Bay will be stepping up the crack down on traffic violators with the introduction of the long awaited multi-million-dollar traffic management system, which will see motorists under the watchful eyes of surveillance cameras.
National Security Minister, Dr. Horace Chang, who is also Member of Parliament for North West St. James, made that announcement as he spoke at The North West St. James Town Hall meeting at the Montego Bay Cultural Centre on Friday to give an update on infrastructure development in St. James.
"The traffic management system for downtown is not yet ready, but it is proceeding with the synchronizing of the lights; the fibre optic is in place for the main road and an additional fibre optic cable is being installed and other aspects of the system at a cost of 25 million dollars."
He further explained that the lights would also be outfitted with cameras with license plate identification capabilities. The installation of the cable and cameras will take place within another 15 days (from August 30) and will be directly connected to the traffic management centre at the St. James Municipal Corporation.
"The room is already identified and prepared for the installation of a video 46-inch diagonal wall mount monitor which has already been procured and delivered to the Municipal Corporation and these works will be completed within the next fifteen days," Minister Chang disclosed.
Dr. Chang said a traffic ticket will be generated from the central system which will be sent directly to Tax Administration Jamaica and the offending motorist will have to visit the TAJ office to pay the requisite fee.
"It means you cannot beg your way off, no matter how many friends you have. You cannot ask anyone to remove your traffic ticket because it is going straight to the tax office. So, when you go there you will have to deal with the traffic ticket as you engage in other transactions including the renewal of licenses, paying insurance and so on."
Dr. Chang said with the new system, he along with the city fathers are hoping to restore order to the city and reduce the chronic levels of congestion which plague the city.
He said the city has long been waiting for a proper traffic management system and this time it is being delivered in good time.