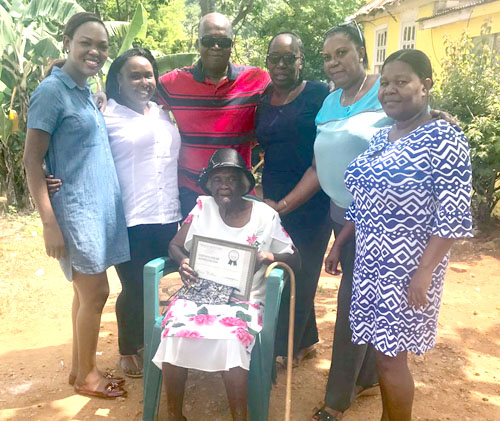 Kinloss, Trelawny/New York based organization, Friends of Trelawny Association (FOTA), has honored community midwife Adora Walker for her 30 years of service. A team from the association travelled from New York, along with members from the chapter here in the parish, to present Mrs. Walker with a certificate of recognition and appreciation, along with goodies and a monetary donation.
Each year, for the past 37 years, FOTA has organized a week of activities to help commemorate the establishment of the association by raising funds and awarding persons from the parish of Trelawny who have made or are making significant contributions to their community through their time, actions, talents and dedication.
Mrs. Walker, 93, who was featured in the FOTA annual journal, among four other awardees this past May, outlined her extensive work in delivering countless of babies during a time when resources, along with public and private transportation, were not readily available to the small community of Kinloss.
Mrs. Walker served the people of Kinloss – the community in which she grew up and also raised her fourteen (14) children with her now deceased husband, Malachi Walker – well. She started delivering babies at the age of 30, but retired when she reached the age of 60 as a result of resources becoming more readily available to the rural community and her mobility decreasing.
Mrs. Walker went on to express that she used her own money to purchase things needed to help with the delivery process. She also said, "I know those mothers didn't have the money to pay me, but what gave me the greatest joy was when I heard the baby cry, and I know that's a new life coming into this world. The smiles on the mothers' faces were priceless, no amount of money could have paid for that."
She was thankful to FOTA for recognizing her for the work she had done. She showed her gratitude by praying a blessing over the team who were on hand to make the presentation.
SUBSTANTIAL CONTRIBUTIONS
FOTA president Norman Goburn, who was unable to be present for the presentation, stated when contacted that, "It's the association's continued effort and objective to always help to further develop and enhance the parish of Trelawny, along with recognizing persons who have made a substantial contribution to the parish. Mrs. Walker is a true example of selfless service to one's community. It's the association's greatest joy to recognize her work."
The association's chairman, Ralston Roberts, echoed the same sentiment. He said, "The association consists of members and volunteers from Jamaica, America, Canada and Europe, all of whom have a desire to see improvements in the parish of Trelawny. The contribution of Mrs. Walker cannot go unnoticed." He also said, "FOTA strives to provide significant resources to Trelawny through ideas, financial and volunteer support."
The Friends of Trelawny Association (FOTA) was formally established in 2001 as a non-profit corporation in the state of New York, dedicated to the development of Trelawny, Jamaica. For the past 34 years, founding members have organized annual Memorial Weekend reunion events in the New York/New Jersey metropolitan area, which usually attracts over 4000 patrons each year.
FOTA is independent of any governmental/political ideology or religious creed. Its work is guided by the common desire of its members and supporters to find practical solutions to social and economic problems, in the spirit of generosity and respect. The vision of FOTA is to be a visible, vibrant, and influential organization that will maintain contact, interest and commitment amongst people with ties to Trelawny.
Rose-Ann Green