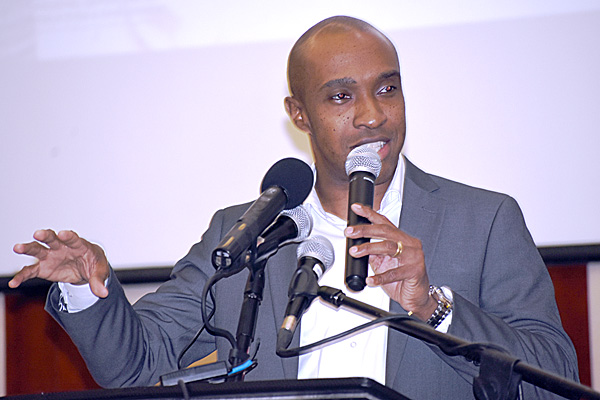 Executive Director of the Tourism Product Development Company Limited (TPDCo), Dr. Andrew Spencer, has underscored the importance of the tourism industry coupled with the opportunity being offered by the Tourism Summer Internship Programme (TSIP) in providing secondary and tertiary level students with temporary employment and a route to possible future career paths in the tourism sector. He was addressing participants at the launch of the TSIP at the Montego Bay Convention Centre last week Thursday (July 12).
"I know that internships can shape you, can give you focus, and show you what you want to do with your life," said Dr. Spencer. "We really want you to be involved in the summer internship programme because this programme is designed to give you a taste of what is the most impactful industry in our country."
He further noted that tourism is, "The industry that we think is going to transform our society, transform our economy, transform our people and, of course, transform our nation. And so we want to give you a taste and we hope that the taste that you get from this industry will tantalize the taste buds so that you'll decide that this is where you want to have your career."
BLOOM WHEREVER YOU ARE PLANTED
Community Awareness Coordinator and MC at the event, Marline Stephenson Dalley, recapitulated Dr. Spencer's points and offered encouraging words to students. "You have 3 weeks; it's not a long time and not everybody is going to be placed at the front desk or in concierge in a hotel because tourism is so much more than the hotel. But bloom wherever you are planted and do your best at every chance you are given," she stated.
Dr. Spencer lauded the Minister of Tourism for being a dedicated and assiduous minister who invests greatly in the development of the country's tourism industry. Among his remarks was that Ed Bartlett is "Our trailblazer who can best be highlighted for how truly beneficial tourism is."
The programme was first launched eleven years ago and has been implemented in association with Housing Opportunity Production and Employment (HOPE) this time around. The programme, which is well underway, started on July 9 and offers secondary and tertiary level students the opportunity to participate in the 3 weeks summer internship programme designed to provide an avenue to develop their abilities and learn skills that are beneficial to a growing and dynamic industry.