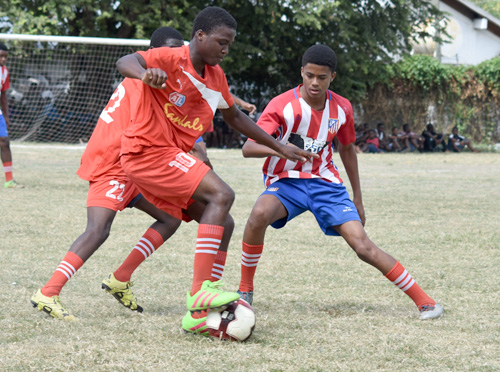 Exciting Sanjay Patterson struck twice in twelve minutes as Bogue survived a sending and wretched officiating, to pull off a pulsating come-from-behind 3-2 triumph over Granville in the second series of matches played in the St. James FA Sandals International Under-17 competition played on Wednesday, July 18 at the UDC field.
Patterson who had been kept quite early on burst into life just after the hour mark and struck the back of the net in the 66 and 68th minutes adding to the 48 minute goal by Oneil Higgins.
Goals from Jay Clarke and Shaquoy Troupe had seen the Granville team race into a comfortable 2-0 cushion inside the opening 18 minutes.
Bogue was reduced to ten men midway the second half after Christopher Slowely was dubiously given marching orders.
Granville was like a runaway train in the opening stages of the contest, playing a well drilled unit, running rings around their opponents.
They deservedly went ahead after 14 minutes when Troupe ghosted at the back post to use his knee to tuff home the ball from a corner kick. The lead was doubled four minutes later when Clarke rifled in a left footed free kick.
It was all Granville then as they strolled effortlessly along the park.
However, Bogue rallied in the second half and produced three telling strikes including the winner two minutes from time as they snatched the impressive victory.
Bogue got their lifeline back into the feisty affair with a 48th minute penalty conversion before a chip over the advancing goalkeeper's head saw them leveling the scores at 2-2.
Moving freely and looking more threatening with every attack, Patterson pulling the strings on the front line for Bogue, then clinched the victory as his penetrative dribble inside the 18 yard box caused chaos among the Granville back line.
In their hesitance to clear, Patterson latched on to stab in at the near post with the defense at sixes and sevens.
The action continues later today (Friday, July 20) with MoBay City opening up their campaign against Westgreen who will be looking to tick off a win after defeat in their opening encounter.
By Noelita Lawrence