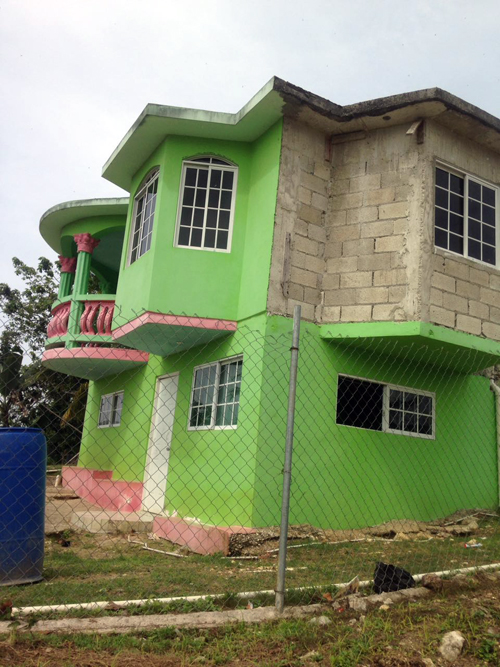 Michael Nattoo – Staff Reporter
Over 200 could lose homes
For almost 20 years, Andria Johnson worked and invested every penny into building a home for herself and her family in the community of Hurlock in St. James, but in the coming days, it could all be reduced to rubbles, after it was revealed that the land had been privately owned by West Indies Home Contractors Limited (WIHCON), which has plans to use the land for a major housing development. These plans do not include Johnson, and the over 200 people now occupying sections of the privately-owned property.
So, when a delegation of worried, furious and bewildered residents from the community of Hurlock visited our offices, among them senior citizens, the air of disillusionment followed them.
"We want some justice! We want some help from our Member of Parliament, Mr. Edmund Bartlett!" one resident, who has lived on the property some 16 years, exclaimed. "For most of us, those houses are all that we have, we have no Plan B, so how can they just push us off the land like that?" another resident questioned.
The Western Mirror has learnt that already, a few houses, which have already been vacated, have been demolished, and as WIHCON's plans progress for the housing development, more houses are expected to meet the same fate. To make matters worse for the possibly soon-to-be homeless residents, majority of them live in concrete structures.
"Last month, they came and bulldozed a big house, and recently, they leveled another one," Ms. Barrett, one of the senior residents, told the Western Mirror. She has lived on the property since 2006, and further revealed that prior to them taking up residence there, the land had been rundown, neglected and did not become a developed space until they moved there. This sentiment was echoed by Ms. Johnson, who recently came back to Jamaica from the USA, after being told that her children had been served with notices to vacate the property.
"This land was a complete wilderness until we lived there," she pointed out, "and it's not like we are not willing to pay for the land, we are all willing to pay and to get regularized, but we haven't been given a chance to have those discussions," Johnson added, further explaining that they have since been told to seek legal representation, despite having meetings with Member of Parliament, Edmund Bartlett, regarding their state of affairs.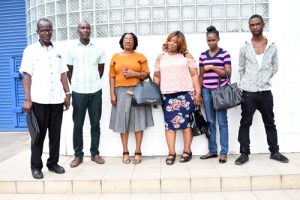 CONSULTATIONS HELD
"Yes, we met with the MP, and we were told that they were trying to work something out for us," Johnson said, as other members of the contingent nodded, while some gave their vocal approval, saying, "Yes, a dat dem tell we!" So far, however, those talks have not led to any meaningful resolution for the residents. As one puts it: "We nuh hear back from dem all now 'bout dat!" What many residents reported seeing following those meetings when they were told to leave the property, were men who visited the area, tractors in tow, threatening to level their houses. They also reported seeing police officers, whom some residents claim, attempted to intimidate them.
"Dem come after Mr. Bartlett keep di meeting and say dem come fi remove we from the property," one man, who goes by the name Mark, explained. Mark has lived on the property for 16 years and explained that his family of seven also lives with him. The homeowner went on to reveal that Bartlett met with them in April and had given his word that he would be back not long after to give an update on the negotiations.
In what the residents believe is a case of abandonment on the part of their political representatives, they are now clinging to what they believe may be their only legal hold to the places they have called home – Adverse Possession. Adverse Possession, in simple terms, allows the 'adverse possessor' (squatter), to over time, through meeting certain requirements, claim legal ownership of a property if the property had been neglected by its rightful owner.
"A lot of us has lived there long enough to qualify for Adverse Possession, so what about that?" a resident by the name of Oral, who has lived on the property since 2002, questioned.
WIHCON speaks
Not so, however, claims WIHCON, the current owner of the property, which was previously owned by CAN-CARA Development Limited. The Western Mirror reached out to Venice Williams-Gordon, Attorney-at-Law representing WIHCON, who explained that, "Firstly, the matter is before the court. For those claiming Adverse Possession, they should understand that it doesn't quite work like that. They should remember that at no point were they unaware of who owned the land. Before WIHCON, the land was owned by CAN-CARA, who repeatedly held meetings with them regarding their occupation of the lands. They were constantly reminded by CAN-CARA through several meetings, and when WIHCON assumed ownership, that practice continued, so at no point were the lands neglected by the rightful owners." Attorney Williams-Gordon further explained that as a result of their status as squatters, it is not a requirement that the owners give them written notice to vacate the premises.
It was revealed to the Western Mirror that WIHCON and the National Housing Trust (NHT) have partnered on a project to have 1,500 low income housing units built, and the illegally occupied lands are needed for that purpose.
Attorney Williams-Gordon, in closing, added that a number of the affected residents were also given cease and desist orders when they first started construction, but many of them continued in spite of the warning.
Over 200 residents stand to be affected one way or the other, depending on the outcome of court proceedings.