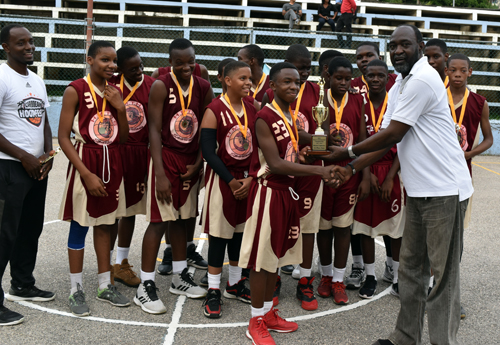 Noelita Lawrence – Staff Reporter
ISSA U-14 B'ball
Bogue school lifts another Basketball title
It was a different formula but the same script as for the fifth straight year, Herbert Morrison Technical High (HMTHS) are again Western Conference Champions of the ISSA Schoolboys Under-14 Competition.
In the championship game played on Monday, June 4, against fierce longtime city rivals Cornwall College at the Montego Bay Cricket Club, Herbert saw off their opponents 37-25 in one of the most competitive meeting between the sides in years.
The Dave Black-coached Herbert trailed by as many as five at one stage late in the third quarter before rallying to overhaul their flagging rivals who wilted under the pressure.
The teams were competitive early on with the Bogue-based school getting the slight edge 10-9 after the opening quarter.
Cornwall's second unit then capitalized on a flurry of mistakes and missed chances by the defending champions, going on a surge against their opponents' second unit, jumping to a 7-5 victory as just a point separated the two going into the break, (16-15).
Cornwall again pressed in the early stages of the third quarter, but then with their nemesis on a charge and upping their defensive displays, they wilted under the sustained pressure and went for just two points in over five minutes as Herbert took charge of the match-up to open up a slender gap.
The Sheldon Pearson-coached Cornwall team were also dreadful at the free throw line, missing eight of 12 shots taken, falling further behind in the affair.
Establishing a 12-point lead from a position of five behind, Herbert, now sensing victory and yet another grip on the title, went on a charge, scoring on cuts and fast breaks before a couple of neat lay-ups and the odd three pointers.
They totally outplayed and Cornwall in the closing stages, 13-3, to pull off the sensational come-from-behind victory, maintaining their strangle hold and prolonging the drought of the red and gold Orange Street-based Cornwall.
Diontae McBean with 6 points and 7 rebounds and Shemar Martin, also with 6 points and 9 rebounds, led the way for the CC team.
The charge of the champions was led by the hard-working Dalmar Clarke, 10 points, 7 rebounds and 6 assists, while the tournament's MVP, Kyle Fraser, supported with 6 points, grabbed 10 rebounds, effected 10 steals and also had 7 assists.
The finalists Herbert Morrison Technical High and Cornwall College will now participate in the All-Island playoffs scheduled to get underway in Kingston later today at the National Stadium Courts beginning at 11 a.m.
THIRD PLACE BATTLE
Holland High copped third place, storming past Muschett 46-21 in the battle for minor placing.
Flawless Travers, 18 points and seven steals, was the mastermind of the Holland victory With Jermaine Hall adding 9 points and grabbing 7 rebounds.
Reanoy Thompson, 8 points and 4 rebounds, and a similar number from David Brown highlighted Muschett's scorecard.