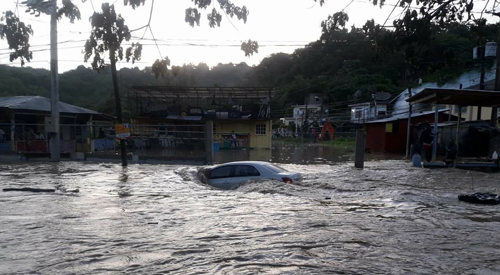 Sashane Shakes
"We have never had rainfall like this before in Hanover." That's the assessment of Member of Parliament for Western Hanover, Ian Hayles, in reaction to the heavy rains which affected the parish on the weekend resulting in houses and cars being washed away and persons marooned. 
He admits that this is the worst he has seen rainfall in Hanover and the flash flooding from the consistently heavy rainfall led to the washing away of some small houses in the parish, which has left residents homeless. Areas of the Brissette community were also significantly impacted by the floodwaters.
"We've never had rainfall like this before in Hanover. We need urgent attention in clearing the major drains in the parish," said MP Hayles. He pointed out that the drainage system is a deciding factor in the flooding as the blockage prevented the water from washing away fast enough.
He told the Western Mirror that with the start of the hurricane season just days away, last weekend's flooding was a warning as to how drastic the situation can become and possibly escalate to more dire instances if the matter is not dealt with early.
The Western Hanover MP is calling on the government to fix the infrastructural damage and create a bypass road in Lances Bay, which was heavily inundated by the flash flooding.
"In terms of being a major corridor and an intrinsic aspect to the tourism product, persons, some of whom were tourists, travelling from Montego Bay, had to turn back to go to Negril and those venturing into Negril had to return to Montego Bay."
He said not only was the tourism product, affected but no commerce happened due to the over five feet of water.
Motorists reportedly ran from their vehicles that the five (5) feet deep water threatened to wash away and pedestrians scrambled to find dry land and safety.
The fire department was alerted to assist residents of the Lances Bay community who were stranded. However, the fishermen of the nearby fishing village assumed the role of first responders until the fire department arrived to take over.
The MP expresses gratitude to the fishermen as he admits they did the bulk of the work before the arrival of the fire department.
An assessment of the situation is being conducted and Food for the Poor is working to provide for the residents who lost their homes as a result of the flooding.