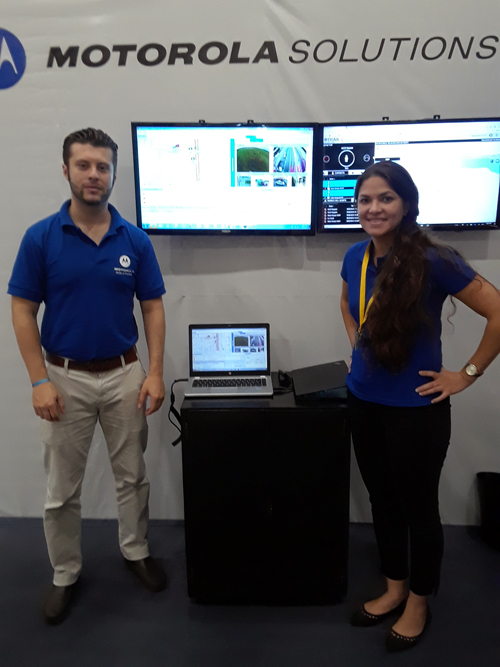 Sashane Shakes
As part of the planned activities for the 33rd general meeting and conference of the Association of Caribbean Commissioners of Police (ACCP), longstanding affiliates, Motorola Solutions, indulged discussions on public safety for a safer Caribbean.
Motorola Solutions has designed and plans to implement the "Smart Public Safety Solutions and Services for a Safer Caribbean".
Motorola Solutions and Services Expert and Business Development Manager, Cristian Quintero, explained to the Western Mirror that the "Smart Public Safety Solutions and Services for a Safer Caribbean" initiative was designed on the grounds that the agencies of public safety need tools in order to achieve the goals of their jobs. He continued that in the case of police officers, for the scope of their work, it is easier to have radios to facilitate communication, access to videos when working in the field and any type of technology that can help the public safety agencies to function efficiently.
Motorola is well aware of the crime dilemma in Jamaica and believes that the tools they offer would be of much relevance to fighting crime in order to facilitate safer communities.
Quintero believes one such tool, the Computer Aided Dispatch (CAD), would have been particularly beneficial to Jamaica, explaining that when someone calls 119, the 1st responder would record incidents in the CAD system, categorizing them on criteria such as manage incidents, change priority, assign resources, and manage resources. He gave the example, "The CAD comes with a map and you can see exactly where police officers are in real time as they are in the field so you can serve as a pair of (or several pairs of) extra eyes as they go about their mission." In short, it should create more situational awareness.
But Motorola Solutions are not new to providing safety and security to Jamaica as Cristian recounted that a few years ago, they implemented the Mission Critical Network for the Jamaica Constabulary Force (JCF) in Kingston. The tools implemented included the radio system, Computer Aided Dispatch (CAD) and videos which were designed to improve operations within the police commission.
With the increase in crime, he hopes that, "implementing these safety measures will lead to safer cities; not only to protect the public, but the law enforcers who put their lives on the line to curve crime."
Motorola Solutions not only delivers technology but best practices as well. Quintero admitted that Motorola has been working with the ACCP for years, as well as other agencies worldwide in understanding the needs of the different countries so that they can better gauge what technologies would be best suited and offer the requisite solutions worldwide.