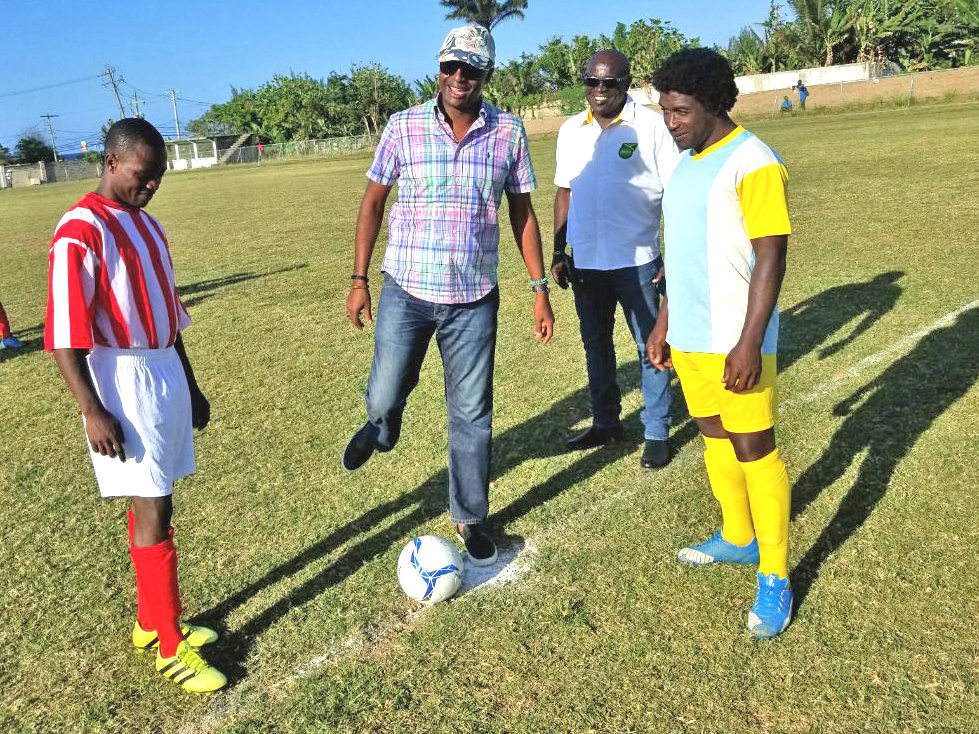 Craig Oates
The Ian Hayles-sponsored Hanover Major League Football Competition kicked off with a bang on Saturday at the Rusea's High School playing field. A large crown gathered to see last year's beaten finalists Sandy Bay FC Tackle Claremont. Before the first ball was kicked, the President of the Hanover Football Association, who is also the Mayor for Lucea, Sheridan Samuels, introduced the teams to the new sponsor of the competition, Western Hanover Member of Parliament, Ian Hayles.
In his charge to the players, Hayles reiterated the importance of discipline in sports, as well as the importance of sports in nation-building.
He stated that he saw the need to assist the Hanover Football Association after it came to his attention that the football competition was without a major sponsor, as it had lost long time sponsor Captain Bakery, whose principal owner, Captain Horace Burrell, died last year. "Discipline is very important in everyday life, and it is no different in sports. I implore you all to give of your best and develop your skills," Hayles said to the group. He further committed to assisting the development of football in the parish in whatever way he can. Mayor Samuels thanked MP Hayles for his contribution and pledged to ensure that the competition is run efficiently and welldisciplined.
He also highlighted the fact that there were so many young players who will be taking part in this year's competition, adding that "discipline is key to our development of the sport in the parish because with so many young players coming on board, they have to get a good start." He thanked MP Hayles for his financial commitment, which he stated will go a far way in uplifting the sport in the parish.
GAME TIME
In the opening game played, Claremont ambushed preseason favourites Sandy Bay FC, as clipping them 2-1. Akeem Williams scored the opening goal in the 25th minute after a great solo run, but Hugh Parker pulled Sandy Bay level in the 74th with a well-timed goal seconds later. However, Sewayne Stewart ensured Claremont got all three points, as he scored from inside the six-yard box to secure the win.
Competition resumes on Monday, April 9, 2018, 3:30 p.m.
Esher Utd vs. Super Star Y.C @ Watson Taylor Park
Hopewell Chargers vs. Johnson Town F.C @ Bethel Primary Sch.