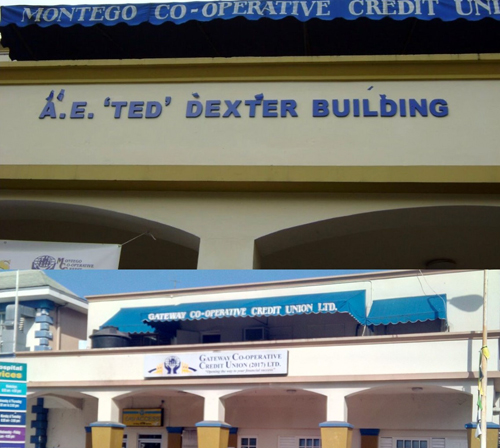 Family members of the late Arlington Dexter are hopping mad, and with good reason. The family has expressed its strong disapproval of the actions of the management of Gateway Cooperative Credit Union in Sam Sharpe Square, Montego Bay.
The ill feeling developed after it was discovered that the sign indicating that the credit union building, which was formally named the "A.E. 'Ted' Dexter Building" on July 21, 2011, in honour of Mr. Dexter, had been removed and replaced without a courteous word to the family.
"Nobody contacted us," said Mr. Dexter's widow, Christine Dexter.
At the time of the renaming, it was the Montego Cooperative Credit Union which subsequently merged with the Hanover Credit Cooperative Credit Union to form Gateway.  The metallic letters spelling out "A.E. 'Ted' Dexter Building", which were embedded into the front of the building, have been replaced by a Gateway Cooperative Credit Union (2017) Limited sign.
Mrs. Dexter said it came to her attention when "people keep on saying to me, 'a pass and a don't see your husband name on the building anymore. What happen?"
Her brother-in-law, noted musician Noel Dexter, also visited Montego Bay and having noticed the change, enquired why. "People have been saying, nearly every week there's somebody asking what happen," said Mr. Dexter.
She said when she tried to get the manager "at one stage I was on the phone holding on for eternity and nobody comes to the phone."
She admitted that the family was peeved. "We're upset about it; it's not the credit union that was named, it's the building, so even if they change the name of the credit union, it has nothing to do with the building," she postulated.
Mrs. Dexter recalled that her husband was "very instrumental in acquiring those buildings for the credit union." He served the credit union over many years, firstly as a director and treasurer and later as general manager.
The buildings she referred to included one on Church Street in 1978, two in Sam Sharpe Square in 1979 and 1988, an apartment in Albion Court in 1981 and land for housing development in Salt Spring in 1988 at a total cost of less than $2.5 million. The Albion Court apartment and Salt Spring property were subsequently sold.
President of Gateway Credit Union, Lambert Johnson has intervened and instructed that the "A.E. 'Ted' Dexter Building" name be restored on the Sam Sharpe Square building.
"It was first brought to my attention about two weeks ago. Absolutely no such instructions were given," said Mr. Johnson.
He said the name was removed for work to be done on the front of the building and it should have been restored "and I have given instructions for it to be retained."
His word to the Dexter family is that "as the president, I am going to ensure that it is replaced."
CWP