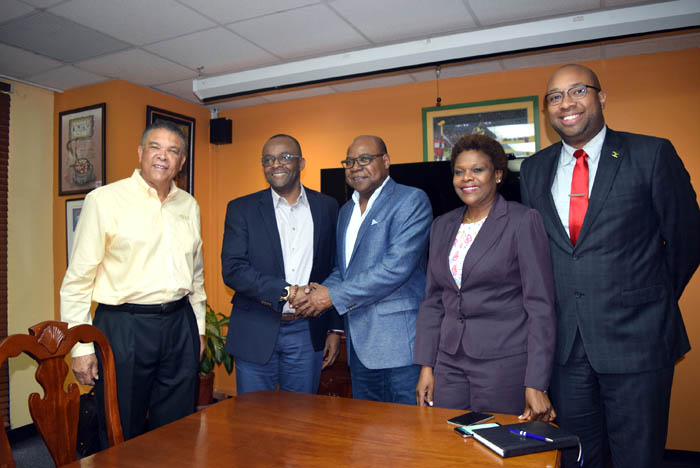 Minister of Tourism, Edmund Bartlett, says a tourism certification programme for secondary students will officially be launched, with the Ministry of Education, Youth and Information on the 15th of March.
The joint initiative will provide certification from the American Hotel & Lodging Educational Institute (AHLEI) in their Hospitality and Tourism Management Programme (HTMP) to students in grades 10, 11, 12 and 13.
The Minister made the announcement during a special welcome meeting for the newly appointed Director of Tourism, Donovan White, at the Jamaica Tourist Board's New Kingston office on February 16, 2018.
"This certification programme will close the loop in terms of our strategy to build the human capital and to create professionalism within the industry. High school students can use this certification as the first step, before going to HEART or universities of their choice," explained the Minister.
He also shared that it would then be recommended for students to apply to the Jamaica Centre for Tourism Innovation (JCTI), an assessment institution driven by the Tourism Product Development Company (TPDCo), which offers AHLEI world-class training and certification over a three-month period.
"Once you have completed your training at the tertiary level, then you can come to us at the JCTI for certification. Also, if you didn't go to any formal institution but you have competence in different tourism-related fields, like as a sous-chef de cuisine or a supervisor in Food and Beverage, you can come to the JCTI and get certified. So you also are able to move up in your profession," said the Minister.
The JCTI and high school certification programme, forms part of the Ministry of Tourism's Human Capital Development Plan, and will facilitate the certification of Jamaicans working in tourism, and better prepare them to serve the sector.
The pilot programme for the certification programme for secondary students will begin this summer, when facilitators will be trained. The official roll-out of the programme in schools should begin in the Christmas term.