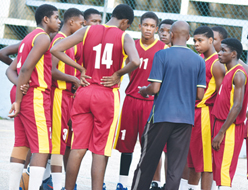 Following the holiday break play in the ISSA Western Conference Schools Under-19 and Under-16 Basketball Competitions resumes on Wednesday (January 10) with two sets of matches in Trelawny and Montego Bay.
In the big Trelawny derby and battle for the former champions, Muschett and William Knibb, also an ex-All-Island winner are set to battle for crucial points as they bid for respective spots to the semi-finals of the various divisions.
Muschett's Under-16's will just be playing for pride in the opening game of the day while their counterparts, with some games in hand, will be pressing for a win in order to maintain their solid stance of a berth in the last four.
It is the reverse in the Under-19 section where William Knibb's Under-19 team is the one holding a chance at qualification to the semis.
In the day's other encounter, Green Pond, who have yet to mark off a win, will look to end their debut season on a high in a contest at home to the much-improved Holland High.
In games where there are Under-16 matches, the contest tips off at 2:30 p.m. Otherwise, it's a 3:30 p.m. start.